William Henry Chase Whiting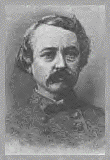 Name WHITING, William Henry Chase
Born March 22 1824, Biloxi MS
Died March 10 1865, Governor's Is. NY
Pre-War Profession Graduated West Point 1845 (1st in his class), supervised river and harbor works and fortifications, resigned February 1861.
War Service 1861 Maj. of engineers, chief engineer of Johnston's Army of the Shenandoah, August 1861 Brig. Gen., commanded Whiting's Divn at Seven Pines, Jackson's Shenandoah Valley campaign, Seven Days, ordered to North Carolina, developed Fort Fisher as a strong fortress, April 1863 Maj. Gen., Petersburg, returned to North Carolina, defence of Fort Fisher (w, c), died of his injuries in prison.
Notes His scholastic record at West Point was the best ever to that point.

Name